I know what you're thinking. Winter stitching - it's only Fall, Mitzi. Yes, but before you know it the time is going to change and it will be getting dark at 6:00 and the nights will be cold and chilly - just the perfect weather for quilting if you ask me. My favorite day of the year is the end of daylight savings time which just so happens to be right around the corner on Sunday, November 6. I love getting an extra hour of sleep and since it gets dark so early all my family is gathered in the house with the garage door down for the night. What a great feeling. One of my most comforting sounds is hearing the garage door go down with all 4 of us inside all safe and sound.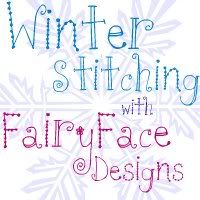 Sarah, of
Fairy Face Designs
, has had the great idea of setting up a
sewing list
to help us keep track of our winter stitching/sewing plans. My list is going to be two parts.
Part 1 to be finished by/for Christmas:
1. Mug Rug
2.
Lined Drawstring Bag
3.
Pot Holder
4.
Dish Soap Apron
Now, those are 4 items that I have never made but really want to make so I can have that experience under my sleeve. This list will help keep me on track (fingers crossed).
Part 2 to be finished by mid March or so:
1. Finish Kitchen Windows quilt
2. Finish Plus quilt
3. Find fabric for and create a Swoon quilt.
4.
Kaleidoscope
- I've wanted to make one of these ever since I saw Elizabeth's gorgeous quilt!
5. Dutch Pinwheel - make for my dear sweet babysitter.
6.
Pepper Cory
Georgia quilt - for The Grandmomma.
7. Finish Bottled Rainbows - fun!
8. Baby quilt for my cousin's baby boy that is due in the Spring.
9. Baby quilt for Erin.
10. Make the backing for the Single Girl quilt.
I feel like I'm forgetting to list some projects but for now this is it. Whew! Does that sound like a lot? It sounds like a lot to me but I'm still going to go for it. Wish me luck!