Every time I turn around there's another quilt along starting up. I can't even finish what I'm working on and I'm already wanting to start 9 more quilts. At least I know there's a zillion other quilters out there in the same shoes I'm in. But, I don't know if I can resist this quilt along. I love all the blocks in it.
Faith
,
Lee
and
Katie
are hosting the quilting and they are already 3 of my favorite quilt bloggers. Their blogs are chocked full of inspiration.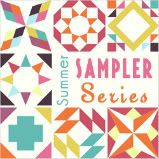 I'm going to search my stash and see what I have that I can use. I'm loving the solids that Faith has chosen. Decisions. Decisions.