I have always wanted to have a Christmas where all the gifts given were handmade by me. Usually I decide that about a week before Christmas and then it's waaaay to late for that to happen. This year, however, maybe that could happen if I start working on those gifts now.
Jennifer at
Ellison Lane Quilts
is hosting a blog hop of 12 different bloggers who will be showcasing a lot of super handmade gifts and tips just in time for Christmas.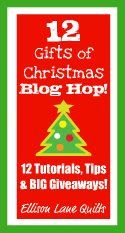 Have a great weekend!