I remember being a little girl and going to the fair in the 1970s. I believe that my mom use to make jams and jellies to enter in the fair but I might just be making that up. I remember being dragged through the hot, sticky building where all the canned goods, prize winning flowers, needlework, and quilts were on exhibition. My mom would always look at all the quilts because her mother was an avid quilter and we had to check out what other people were making. I would always stare extra long at the quilts that won a blue ribbon. Wow! Getting the blue ribbon is a big deal. You know what? For some strange reason I don't have any recollection of riding any rides though. What's up with that?
Anyway, there's going to be a County Fair that I think I can actually participate in and I can do it from the comfort of my living room in the air conditioning. Yeah!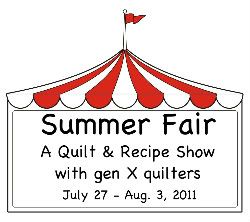 So, come on out to the fair! Each participant can link up 1 recipe and 1 quilt. Twice the goodness. See ya there.
edited to add: I asked my mom if she entered her jam in the fair and her face lit up and she said her blackberry jam won a ribbon! She also said there weren't rides at the fair back then, mainly just agricultural stuff.